Talk Nation Radio for January 7, 2009
David Bacon on How Globalization Creates Immigration and Criminalizes Immigrants
David Bacon's December 15th piece in Truthout.org was, "Should we Defend Illegal Workers?" We asked him to talk about that and about his book, "Illegal People".
Produced by Dori Smith, Storrs, CT
Syndicated with Pacifica Network
TRT: 29:50 music fades 10
Download at Pacifica's Audioport
here
if you are a member here or use
Radio4all.net
and
Archive.org
.
Music by
Fritz Heede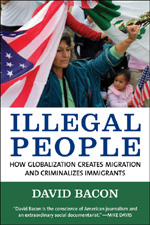 David Bacon is author of the
book
, Illegal People: How Globalization Creates Immigration and Criminalizes Immigrants". He documents labor, migration and globalization, and has written for the Nation, The American Prospect, The Progressive, and the San Francisco Chronicle. His 2006 book was, "Communities Without Borders." You can learn more about his work at his
web page
.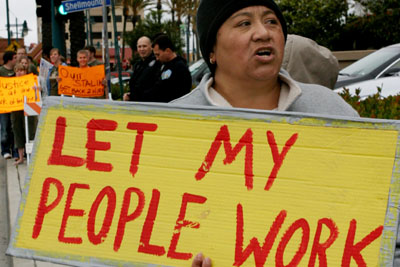 Photo by David Bacon.
See
review
here. And Google pages
here
.