Talk Nation Radio for May 20, 2009
Chris Hedges on his new book, 'Empire of Illusion, The End of Literacy and the Triumph of Spectacle'
TRT: 29:36
Produced by Dori Smith
Download at Pacifica's Audioport
here
and at
Radio4all.net
and
Archive.org
.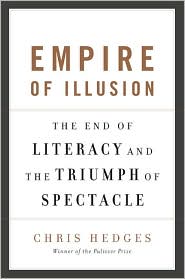 Chris Hedges joins us for the half hour to talk about his new book, Empire of Illusion. We also look at the escalation of the war in Afghanistan, and,
The Disease of Permanent War
, which is the title of the latest commentary piece by Chris Hedges featured May 18th in Truthdig.com.
Chris Hedges graduated from Harvard Divinity School and was a war correspondent writing for the Christian Science Monitor, the Dallas Morning News and The New York Times, where he spent fifteen years and was on the team that won the
2002 Pulitzer Prize
for the paper's coverage of global terrorism. He has covered Central America, the Mideast, and the Balkans, some 50 countries in all, and he also worked for NPR,
National Public Radio
.
Chris Hedges is
author of many books
including his recent best seller, "War Is a Force That Gives Us Meaning," plus the more recent, American Fascists: The Christian Right and the War on America and earlier texts such as What Every Person Should Know About War. He received wide acclaim for an earlier book, "Losing Moses on the Freeway". But it is books like Collateral Damage: America's War Against Iraqi Civilians, that has given him a reputation as a leader amongst reporters who cover human rights. In 2002, Chris Hedges received the Amnesty International Global Award for Human Rights Journalism. He has taught at Columbia University, New York University and Princeton University.
You can read regular columns by Chris Hedges at
Truthdig.com
every Monday.
We hear clips from NPR on the US air strikes that killed some 140 Afghan civilians, and on the poll taken in Pakistan by IRI, the International Republican Institute. See
here
here
and
here
for the members of the board of IRI.
Headlines copy..
May 2009 brings more grim news for peace activists seeking an end to the Iraq and Afghan wars, trying to stave off wider war in Pakistan, and still reeling from Israel's assault on Gaza. John Murphy is an organizer at COW,
Citizens Oppose War
, and the
Southeastern Connecticut Peace and Justice Coalition
. Those groups and Connecticut
Students Against War
marched from Williams Memorial Park to the gates of the Coast Guard Academy in New London, Connecticut, Wednesday morning, May 20, 2009, to protest war, US immigration policies like 'ICE' and commencement speaker Janet Napolitano, Homeland Security Secretary.
Murphy said their message is unchanged since the Bush administration was in Washington: 'The message today unfortunately is the same message that we've had for the past years since COW was formed and we've gone to the Coast Guard Commencement and it's for the United States to end the wars of occupation in Iraq and now Afghanistan and our war on Pakistan, and to redirect our military spending toward first of all honoring our financial and health care commitments to veterans and their families and to really start taking care of education, health care, and jobs in this country and not be bailing out Wall Street and the banks and the financial institutions that have dragged us to the precipice of a second great depression. That was our message two years ago at the Coast Guard Academy, it was last year, and it's the same thing. There were other groups there talking about immigrant rights because Janet Napolitano, who is the Secretary of Homeland Security was the commencement speaker this year. The Department of Homeland Security is in charge of the ICE raids that has gone after immigrants. There was some messaging about that. But the COW message is the same thing, we need to end these wars, we need to restore our standing in the world by being the leaders that we were in the past and for us to not really be drawing down our troop strength in Iraq while we are increasing our troop strength in Afghanistan and bombing a lot of innocent civilians with unmanned drones in Pakistan where the rhetoric is not matching the results and the actions.'
John Murphy, COW, CT Citizens Oppose War, May 20, 2009.
In fact, increasingly, the Obama administration seems to be picking up the threads of propaganda left hanging when the Bush team left Washington. Here is Secretary of State Hillary Clinton speaking about a new trade agreement she said would enrich Pakistani and Afghan civilians: "I'm pleased to announce that Afghanistan and Pakistan have reached an important milestone in their efforts to generate foreign investment and stronger economic growth and trade opportunities. Before President Karzai and President Zardari
meet with President Obama this morning the two ministers, Minister Qureshi and Minister Sponta, will sign a memorandum of understanding committing their countries to achieving a trade transit agreement by the end of the year which we believe will have great economic benefits for both people's." May 6, 2009, Remarks by Secretary Clinton, who appeared at a press conference with President Karzai of Afghanistan and President Zardari of Pakistan at the U.S.-Afghanistan-Pakistan Trilateral Consultations II, in the Benjamin Franklin Room.
In the background though an increase in US Military air strikes in the region were anything but good for civilians in either Pakistan or Afghanistan. (See May
5
,
6
,
7
, 2009, Afghanistan,
Pakistan
plus
.)
1.5 million Pakistani civilians, (
USA Today now says 2 million
) are now in flight in the Swat Valley where there are heightened battles with the Taliban. Still, the US propaganda machine that grew to a frenzy under Bush/Cheney seems to have been restarted, or, did it ever really stop or even slow down? "If anything it has only been accelerated, and you are referring to Fullbright's book in 1970, The Pentagon Propaganda Machine." Chris Hedges, TNR, May 20, 2009
NPR Coverage: Renee Montaigne, Tom Bowman, Julie McCarthy: Receptive Pentagon reporters like NPR's Tom Bowman have been articulating the US rationale after air strikes killed some 140 civilians in Western Afghanistan. The hearts and minds campaign has been jump started too, and Secretary of State Clinton has promised $110 million in humanitarian aid. This amid renewed discussion about al-Qaida, an increase in pro war coverage by the corporate press, as 25,000 more US troops are now headed to Afghanistan.
NPR's Julie McCarthy reported from Islamabad that the conservative
International Republican Institute
, IRI, had conducted a survey with results that supported the US view that Pakistanis want to see the the Taliban defeated. US Senator John McCain and former campaign staffer Randy Scheunemann are on the board of the institute, IRI, along with Paul Bremer III, former U.S. Administrator of Iraq, (CPA head) and many others involved in conservative US politics and US trade or war efforts.
In an article in
Mother Jones Magazine
Joshua Kurlantzick called IRI, 'the coup connection', because it fostered the overthrow of governments like the Aristide Government in Haiti, he said. Members and the board of IRI, (see below) have followed their economic or political interests abroad to many countries where opposition political figures are then supported.
Over the next two programs Chris Hedges helps us understand the meaning of this next phase of what former Secretary of STate Donald Rumsfeld called, 'the long war'.
www.talknationradio.org
talknationradioblog.blogspot.com
More
on journalist and author Chris Hedges: In his book,
Collateral Damage
America's War against Iraqi Civilians, Chris Hedges and journalist Laila Al-Arian reveal the terrifying reality of daily civilian life in Iraq at the hands of U.S. troops.

Barack Obama is a Brand
, May 4, 2009 Truthdig.com, reprinted by CommonDreams.org
Of interest
May 21, 2009 Women in battle against Taliban in Swat, By Isambard Wilkinson in Islamabad and Emal Khan in Peshawar.
Women in battle against Taliban in Swat
'Women joined villagers in a revolt against the Taliban in Pakistan's Swat Valley where a major military offensive against fundamentalist fighters has been launched'.
And from Mother Jones
...'
The Coup Connection
', October 27th 2004, 'How an organization financed by the U.S. government has been promoting the overthrow of elected leaders abroad', by Joshua Kurlantzick
'In 2004, several of the people who had attended IRI trainings were influential in the toppling of Aristide. Among them, according to Kim Ives, a journalist with the newspaper Haiti Progres, was André Apaid, a conservative Haitian politician who had backed a previous anti-Aristide coup in 1991. Apaid became one of the leaders of the Group of 184, which organized the street demonstrations against Aristide. Other members of the group trained in the Dominican Republic were in close contact with the thuggish armed opposition -- participating in rebel meetings, serving as liaisons between the armed groups and foreign embassies, and negotiating for the militia leaders. Among them was Paul Arcelin, a leading member of the opposition who had served as an ambassador under Haiti's previous military junta. Arcelin told Canadian reporters that he and other opposition leaders frequently met with Guy Philippe, the leader of the armed rebels, to "prepare for Aristide's downfall."
When the uprising against Aristide began in late 2003, the White House did little to stop it. In February 2004, as the militias were marching on Port-au-Prince, President Bush issued a statement blaming Aristide for the violence. In late February, the administration urged Aristide to leave Haiti, and on February 29 he was flown into exile in the Central African Republic on a U.S. plane dispatched by the Pentagon. Today, conservative politicians and the military are reinstalling themselves in power, Haiti experts report; the country's infamous intelligence services are being re-created, and violence against Aristide supporters is commonplace'. continues...